We can assist you with all your engraving requirements for trophies, awards, medals and name badges for academic, sport or corporate requirements.
We provide FREE engraving for our trophies, medallions and cups – regardless of how small your order is.  We have the latest in engraving technology using laser and rotary computer engraving as well as specialising in hand engraving.
LASER ENGRAVING
We use laser engraving for the majority of our awards.  A laser is used to etch your wording either directly into the surface of your award (eg glass, crystal – engraving appears white) or on a plate attached to your award (trophies, medals, plaques etc – engraving appears black).
ROTARY COMPUTER ENGRAVING
We also specialise in rotary computer and hand engraving techniques for engraving perpetual plaques and awards.  When you purchase one of our perpetual awards, the first engraving is FREE of charge.  Subsequent engravings will incur a small charge.

If you have a perpetual trophy which needs updating, we can also engrave this for you.  A fee will apply to this service.
LOGO DISCS
Many of our trophies and medallions come with space for a round logo disc.  We can personalise these with a design of your choosing or you may prefer one of our standard designs.
Please note:  Minimum orders apply for the personalised disc option.

Our logo discs are provided free of charge with your trophy order.  Personalised discs may incur a setup fee.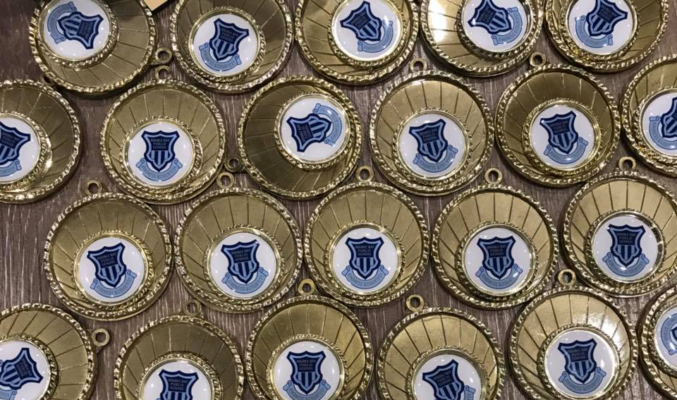 FREQUENTLY ASKED QUESTIONS
Q. How many lines can I have engraved on a trophy plate?
A. When engraving a nameplate we allow up to four lines of engraving but on a smaller trophy, three lines look best.
Q. How will the engraving appear on my trophies?  Am I able to specify a particular font or size?
A. All engraving will be centred on the award.  The text size will be determined by the space available and how many lines of text you would like.  We normally use Candara (sans-serif font) however if you are after a specific one, please let us know.
Q. How do I send you the details for engraving?
A. The best way to give us your engraving details is to email us with your list preferably in .xls or .csv format using a separate column for each line engraving text.
Q. I'm not sure what wording to have engraved.  Can you help with that?
A. The following suggestions will hopefully give you a starting point.  If you are still stuck, we'd be happy to guide you.
Suggested formats for Sport trophies and medals
Club Name
Team Name – Year (not needed for trophies with Year centre)
Player's Name
Or
Club Name
Division – Year (not needed for trophies with Year centre)
Team Name
Player's Name
Suggested formats for Corporate awards
Line 1: Company name or logo
Line 2: Type of award
Examples: Employee of the year/month, Most Improved, Teamwork Award, Service Excellence, Sales Excellence, Tournament Champion, Golfer of the Year
Line 3: Acknowledgment
Examples: Thank you, Presented to, Awarded to, Congratulations, With Thanks, Honouring, In Recognition of, Men's Champion, Ladies' Champion
Line 4: Name of recipient
Line 5: Details of the award
Examples:  Outstanding dedication to customer service, Outstanding efforts in sales goals, A commitment to personal leadership, Appreciation and dedication to the people in your community, Ten years of outstanding & loyal service
Line 6: Date